Discover more from Paul Wells
Politics and culture as though they mattered.
Over 20,000 subscribers
Tuition hiking
When only outsiders pay for their education, recruiting outsiders becomes awfully tempting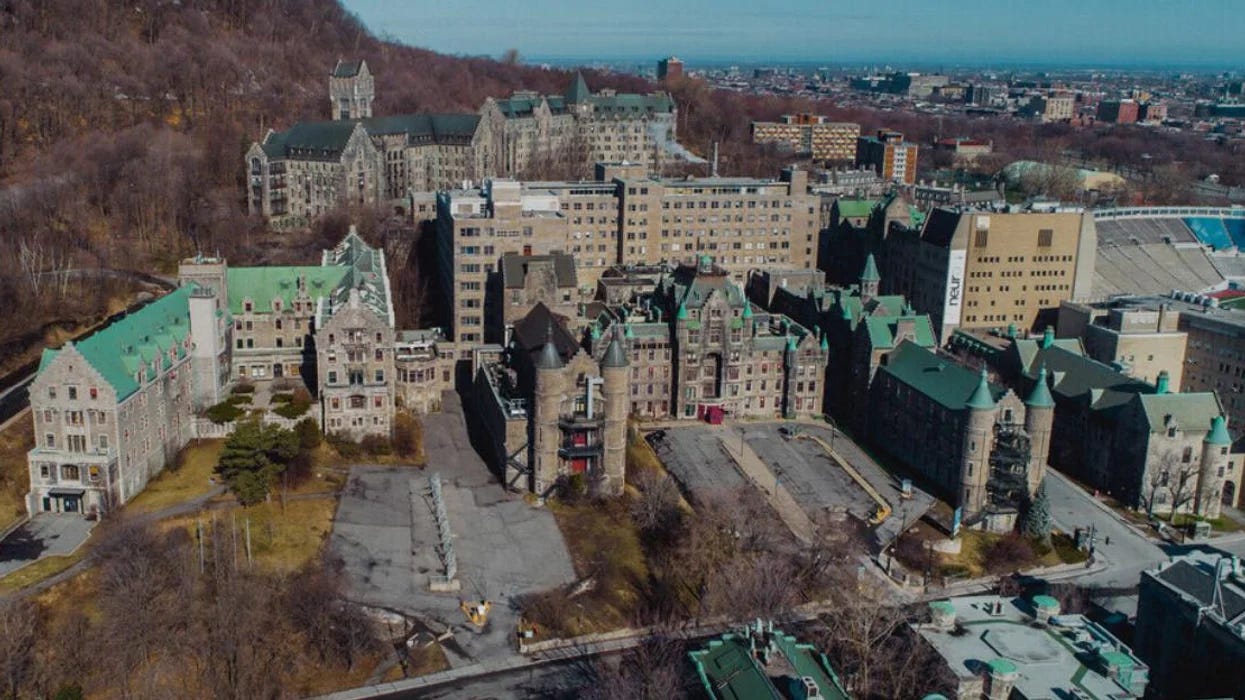 Let's do a thought experiment. You're running a university system in good faith. You get two kinds of student to put into it. One kind of student pays part of the cost of their education. The other kind pays much more of the cost. Which kind would you rather recruit?
I ask because, of course, it's not only a thought experiment.
On Oct. 13 Quebec's government announced it will roughly double university tuition for undergraduates from other Canadian provinces. I wrote about the policy change last Wednesday, saying that the higher differential fee for out-of-province students — and another change, by which the provincial government will keep more of the extra tuition that students from other countries pay — would hit Quebec's English-language universities hardest. I also said the Legault government's various explanations for the new policy were mutually contradictory.
That post was widely shared in Quebec and outside, and on Friday the Montreal radio station CJAD interviewed me about it. In an attempt to avoid repeating myself, I added something I hadn't said in the column: that Quebec would hardly be the first jurisdiction to charge outsiders more than students from home. In the United States, almost every public university charges more to students from outside the state than they do to in-state students. In fact the difference is closer to 3:1 than 2:1.
I felt magnanimous conceding an important point. I don't like the Legault government's new tuition policy, but it's ridiculous to pretend it's something new on this earth. But since Friday I've been thinking: If we're next door to one of the world's largest laboratories for differential university tuition, can we learn anything else from it?
Paul Wells is a reader-supported publication. To receive new posts and support my work, consider becoming a free or paid subscriber.
We sure can. What we learn is that while differential tuition fees discourage some kinds of students from crossing state lines — the ones who can't afford it — they don't discourage all students. The students with money still show up. And boy are the universities glad to see them.
That last point is key, and it is having effects that should, in hindsight, not be surprising. Aaron Klein at the Brookings Institution think tank writes: "For the last twenty years, nearly every flagship university in the U.S. has been decreasing its share of in-state students and enrolling more students from out of state."
USA Today's story on the same phenomenon begins with a great anecdote about a University of Alabama recruiter who goes from one high-school information session to another, handing out pamphlets from behind her University of Alabama-branded folding card table. Except she doesn't do this at Alabama high schools. She works in South Carolina.
Klein found that between 2002 and 2018, the share of out-of-state students in American "flagship" public universities — the University of Michigan, the University of Georgia, University of Kentucky and so on — rose by an average of 55%. The decline in in-state students was 15% over the same period.
This can't be what anyone planned when the widespread decision was made to give in-state students a bargain. But once you hear it's happening, it's easy to see why. Imagine a student from Oklahoma and one from Vermont. If the Oklahoma kid studies in Oklahoma and the Vermonter stays in Vermont, they each get their education at a discount. But if they simply trade places, both universities enjoy a nice bump in revenue.
So nice, in fact, that they can devote less money from other sources to their operations. Klein finds that in a subset of 16 states he studied more closely, per-student state spending on higher education fell by 19% over the 16-year period in question. He writes:
I hypothesize that schools are caught in a cycle where they compensate for the decline in state funding by enrolling more lucrative out-of-state students. Increased recruitment of out-of-state students, in turn, may lead to less local political support and further erosion in state funding.
These are robust trends involving large numbers. Out-of-state student enrolment increased in almost every state, 48 out of 50, displacing billions of dollars in public funding with money from the students' earnings and their families' pockets.
Now, Quebec's doubling of out-of-province tuition fees won't necessarily produce the same result. To ensure it doesn't, two things need to happen.
First, there would be no swapping of affluent students if other provinces don't copy Quebec's plan. The thing is, resisting the urge to copy the steep differential fees will require considerable restraint from provinces whose names don't begin with a Q.
Alex Usher notes that 6,399 Ontarians have been studying in Quebec universities — but 6,456 Quebecers have been studying in Ontario universities. Legault's change represents a $50 million-ish windfall for Quebec. How long do you suppose Doug Ford will be in a mood to leave that kind of money on the table? How about Danielle Smith or Wab Kinew any of the other premiers? They don't even need to be vengeful or xenophobic or whatever pejorative adjective you want to put on them. They just have to be rational. Here's a tempting new revenue source: why pass it up?
The other way to avoid tuition swapping is for Quebec's government, as the main decision-maker for the province's university system, to put a cap on out-of-province enrolment (or a floor under in-province enrolment). I find this easier to imagine than the scenario in the previous paragraph. But only barely. The temptation to let more students cover more of their education cost has seduced just about every state university in America. State treasuries have retreated in pace. Easy money has crowded out hard money. The same temptation will now exist in Canada.
The net effect over time of a situation where individual pocketbooks replace government spending would be to reinforce the advantage highly-mobile, high-income students always have over students with fewer options. Students who are, in many cases, the first in their families to pursue higher education.
This helps explain why one of the organizations that was most critical of the Legault government's announcement was the FNEEQ-CSN, the province's main teachers' union. In a French-English or Quebec-Rest-of-Canada dispute, the FNEEQ would not normally be expected to take the side of anglos or non-Quebecers. But there's an equity dimension here too, and that's what they found most compelling. "Stop using students as ATMs," the union wrote, in picturesque fashion.
---
The other thing I want to discuss today is the stubbornness of preconceptions.
When I posted last Wednesday's column on LinkedIn, one commenter found my argument lacking. One reason: "[I]t should be mentioned that anglophone universities are receiving more than their fair share of governmental funding from the Quebec government," the commenter wrote. "Just on infrastructure, for example, McGill received the equivalent of $28,500 per students while UQAM had to live with a meagre... $357."
Well, that'd be the damnedest thing if it's so. I went looking for the source for this claim.
Here it is: a story from La Presse Canadienne from the spring, based on a communiqué from the Parti Québécois. Here's my translation of the top of the story:
English-language universities will obtain the lion's share of Quebec's infrastructure funding, according to the Parti Québécois.

Between them, McGill and Concordia universities alone will obtain $622 million of the $1.04 billion the Quebec government will give to all the universities on the list of projects, according to the Quebec Infrastructure Plan 2023-2033 that was tabled with Tuesday's budget.

"Can the premier admit that his higher-education budget pays directly for the anglicisation of Quebec?" the PQ leader Paul St-Pierre Plamondon asked premier François Legault in Thursday's question period.

The sovereignist leader calculated that, for example, by dividing Quebec's infrastructure investments by the number of students at each institution, it amounts to $28,500 per student at McGill and $357 per student at UQAM [The big Montreal flagship of the Université du Québec network — pw].

All the French-language universities put together are sharing "a meagre 40%," he said, noting that the Université du Québec network "gets only 5% of the pie."
As wire-service stories sometimes do, this one got a lot of play, running verbatim in several news outlets and in translation in The Gazette. It pretty swiftly entered the lore.
PSPP (the shortest form for his ungainly name) is an impressive party leader who's enjoyed praise, including from me on TV pundit panels, even though in last year's election his party posted its worst performance since it was founded. But I wanted to see where he was getting these numbers. It's easy enough to find the latest rolling 10-year infrastructure plan from the provincial infrastructure department.
Here's the two-page chart of major infrastructure projects underway in the higher-education sector.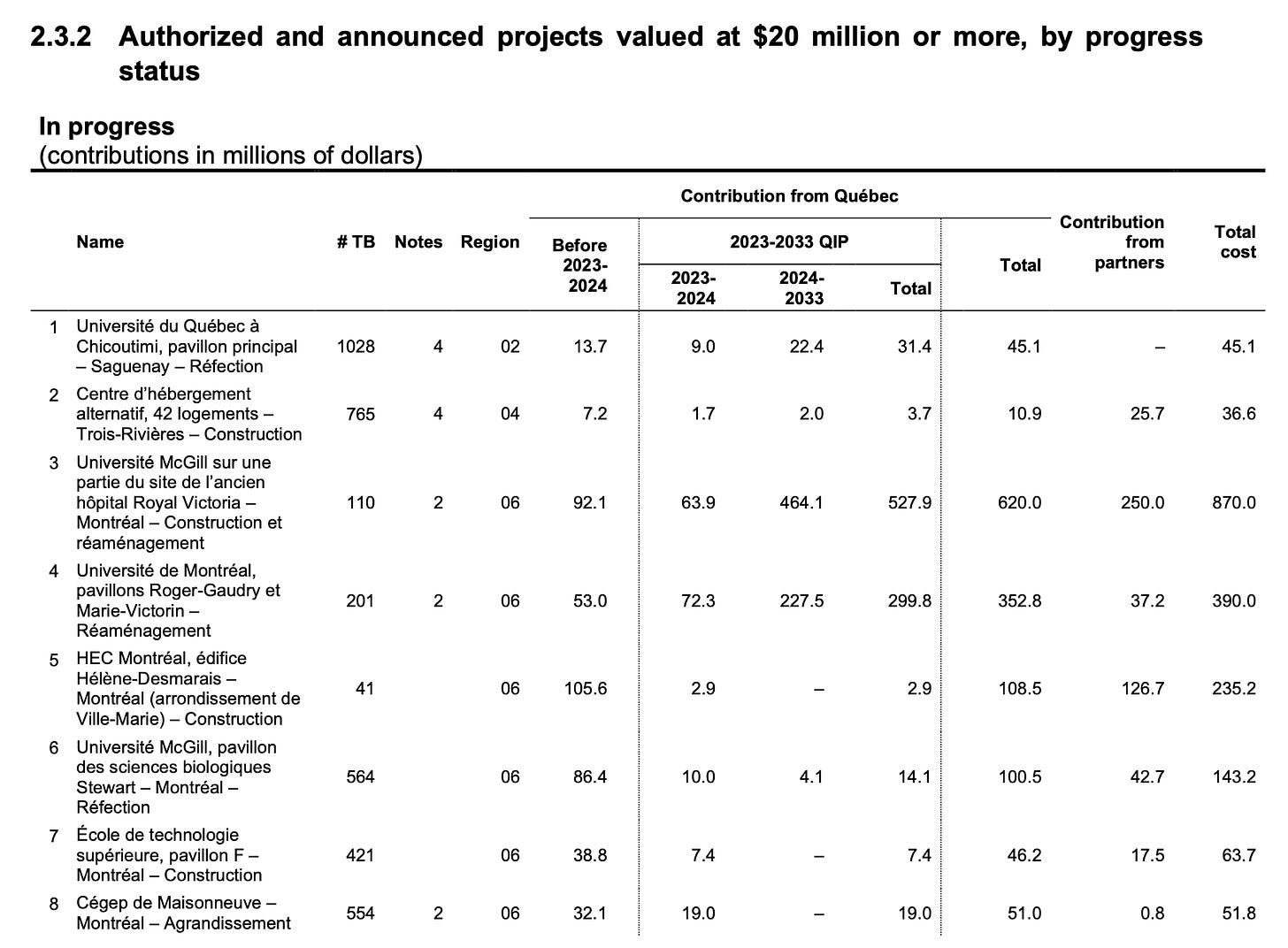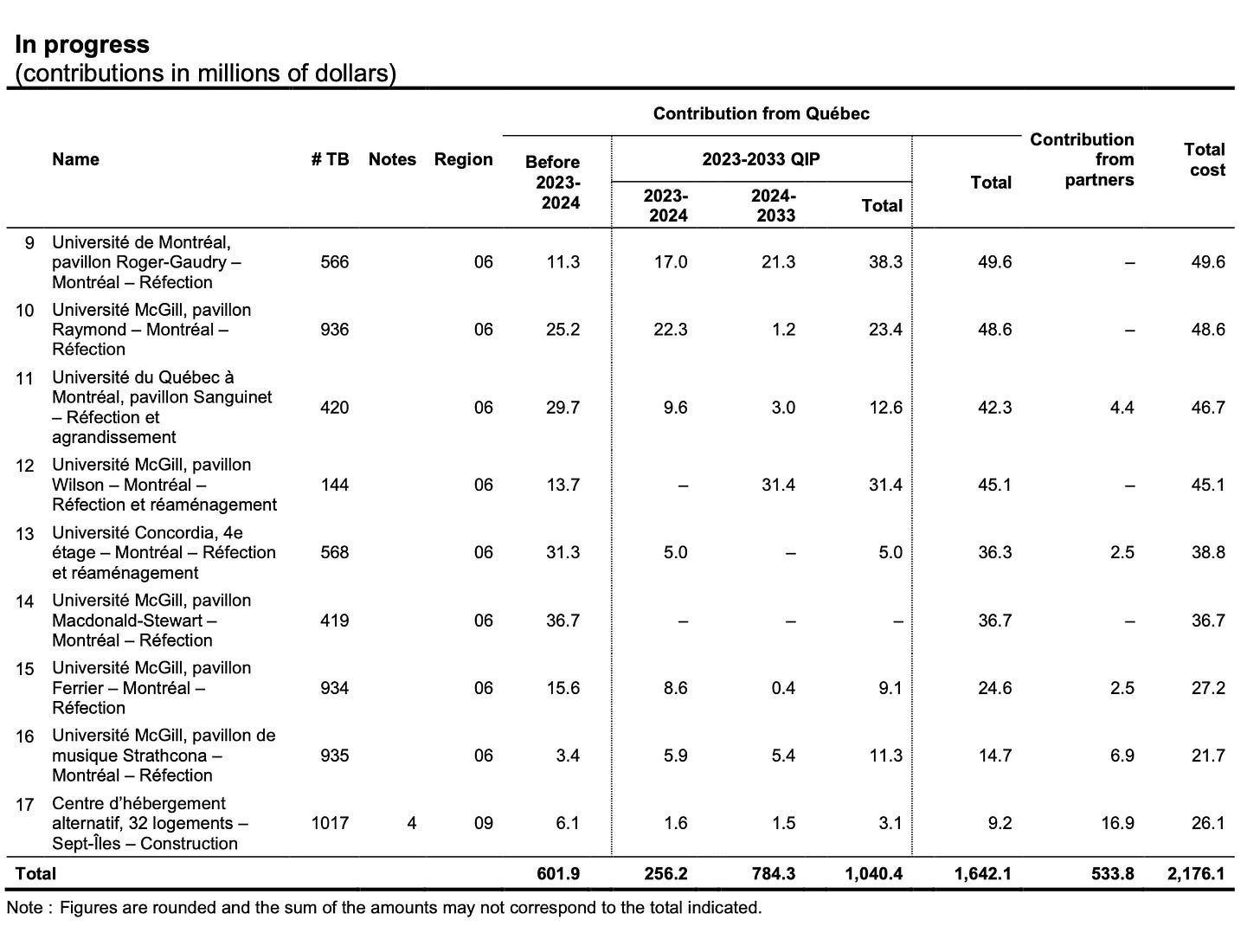 Sure enough, in the fourth column you see McGill gets $527.9 million for a single project, as well as other projects totalling over $88 million, whereas UQAM has to make do with $12.6 million for a single project.
And already, we start to see PSPP is playing Fun With Numbers.
First, it's worth pointing out that these numbers are for what the infrastructure department sees as current infrastructure needs. They're projects that are needed now and ready now. They're not an attempt at a Solomonic judgment about what will be needed for all time. That's why the whole deck is updated yearly with each provincial budget.
Second, one notes a little playful selection of data. UQAM's teeny $12.6 million is paltry indeed. In fact it's smaller than what three other francophone institutions are getting — universities in Chicoutimi and Montreal, and a CEGEP in Montreal.
In contrast, UQAM's modest funding is more than twice as large as what Concordia got. So the only reason to contrast "McGill and Concordia" with "UQAM" is to turn this into an anglos-vs.-francos story. Indeed, in a variation of the parable we learn in French as "la paille et la poutre," PSPP had to look right past the $338.1 million grant that the very francophone Université de Montréal received for two projects. That's nearly 27 times UQAM's allotment. But saying "UdeM got way more than UQAM" doesn't have the mythic resonance that "the anglos got more than the francos" has.
Still, there's no hiding the fact that a single McGill project is getting more than half a billion dollars.
What's the project?
It has to do with the sprawling village of century-old buildings in the photo at the top of this post. That's the old Royal Victoria Hospital, founded by two rich Scots in the late 19th century. Since forever it's roughly defined the northeast end of McGill's main campus. Since 2015 it's been an abandoned hulk, because a new McGill teaching hospital has sprung up in the city's west end: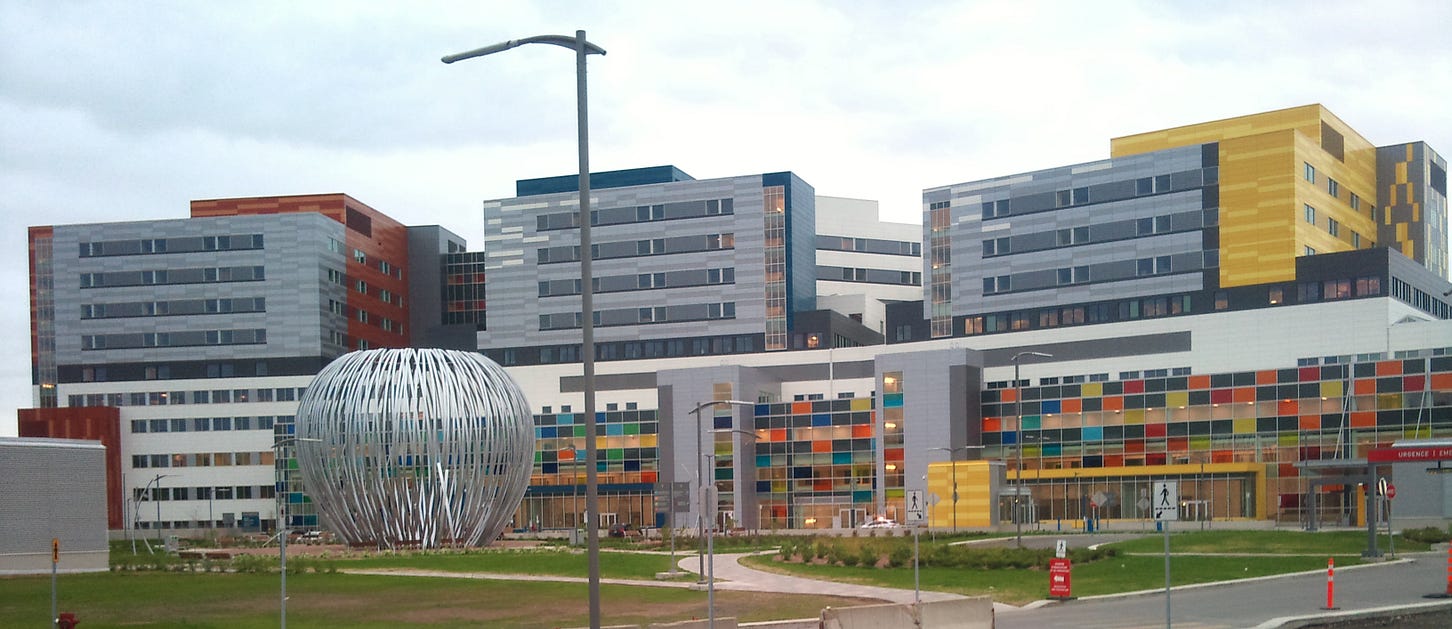 This leaves the question of what to do with the majestic, but deeply decrepit, warren of limestone castles that seem almost carved into the side of a mountain, in the very heart of Canada's second city (or Quebec's first). I suppose the options included:
(1) Let it rot;
(2) Take it off McGill's hands, which would perhaps have been satisfying but would still have done nothing to foreclose option (1);
(3) Either way, pour vast amounts of money into the thing to keep it from becoming the hole in an urban doughnut.
In the end, Legault's government is continuing with a plan hatched before it was elected, which is to do (3) with a bit of (2). McGill's keeping about 18% of the old site's grounds, and not quite half the existing buildings, for a new research institute. The rest will probably become mostly student housing to be shared by several universities.
Here's the infrastructure department's page on the Royal Vic reno project. Here's McGill's version. (And if you're interested, here's how that third of a billion will be spent at the Université de Montréal. That art deco tower by Ernest Cormier is one of my favourite buildings anywhere, but the buildings under it need considerable work.)
But I mostly just want to show you this video by the infrastructure department, which hints at the scale of the work involved. Rebuilding the old Royal Vic for a new century is a big step in the history of a great city. The video's mostly in French because so many participants in this project are francophones, but you'll get the gist:
I don't know about you, but I look at this video and I remember why I love Montreal. It's true that two rich Scottish guys got the ball rolling, but a very different society is writing the next chapter with great care. I strongly suspect that on the off chance the Parti Québécois managed to form a government anytime soon, it would spend this money to implement this plan. This is what gets lost when numbers get thrown back and forth.