Discover more from Paul Wells
Politics and culture as though they mattered.
Over 20,000 subscribers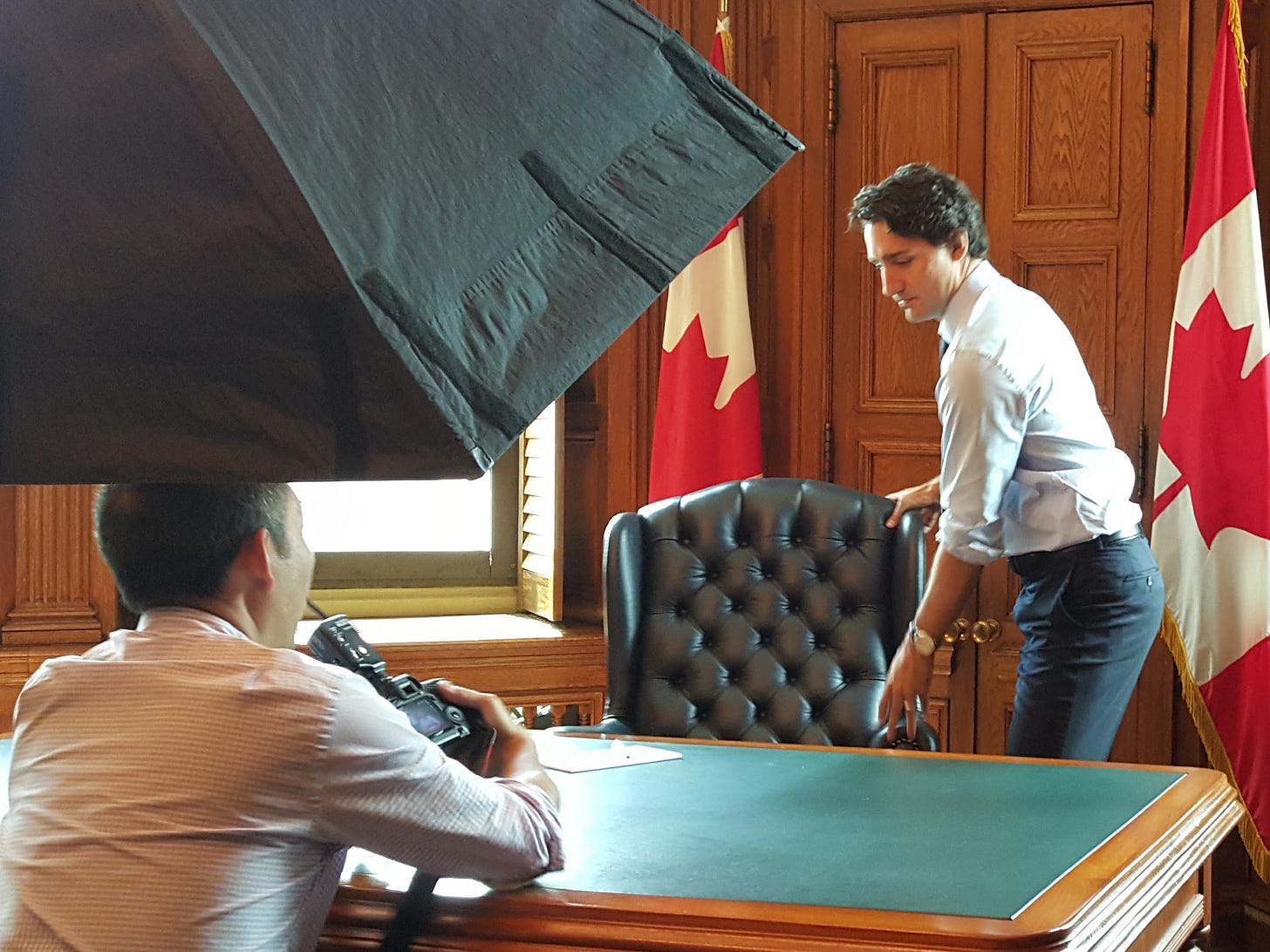 That was fun of Justin Trudeau to act out the message that somebody who spends his days in the Senate is a nobody. Of course, the kind of year he's having, his bit of theatre came two days after he appointed five new senators. Welcome to the upper chamber, suckers. If you're really lucky, a flailing prime minister might use you for a punchline.
This felt like the week that Trudeau's hold on his leadership became precarious. I've had people asking me all week whether Trudeau will run again. Of course I don't know. I guess the only thing that's new is that if he does stay until the next election, and lead the Liberals into it, I'll wonder — more keenly than before — why he bothered.
This newsletter is my full-time job. To join a growing community of readers and supporters, hit the button.
The decision still feels like his alone. The headline-making assaults on his power this week fell well short of what it would take to remove him if he doesn't want removing. I find Percy Downe a serious and likable man, but he is not gregarious, he doesn't have networks of people ready to do his bidding, and the truth is that the Senate isn't a base for getting anything done within the Liberal Party. Hasn't been for a decade.
As a good Liberal who was working hard long before "hard work" became a Trudeauite slogan, Downe has never forgiven Trudeau for kicking senators out of the Liberal caucus. As a good Prince Edward Islander, he has never forgiven Trudeau for maintaining tolls on the Confederation Bridge between the Island and the mainland while removing tolls on the Champlain Bridge into Montreal. This was a straightforward transfer of wealth from PEI to Central Canada, and turned out to be foreshadowing for last week's fuel-oil transfer in the other direction. So Downe has a grudge or two to motivate him, and no army to deliver his desired outcome. His preference for Trudeau's political future is widely shared in the country but he lacks a mechanism for delivering it in real life.
At least Downe has been expressing a clear preference in coherent language. In this he contrasts nicely with Mark Carney. Carney was a successful central-bank governor in two countries, a feat without obvious precedent. But politics is a different line of work. Reading Carney's interview with the Globe was like watching somebody shake a Ziploc bag full of fridge magnets. In fact I'm pretty sure that when he started talking, he wasn't planning to deliver any message about party politics.
He'll "lean in where I can." He has a list of things he hasn't ruled out: becoming the next Liberal leader; running for Parliament. Running for Parliament is also on his list of things he hasn't ruled in. Not ruling things out is, notoriously, not how you actually get into Parliament. I haven't ruled out becoming a backup dancer for Taylor Swift, and yet I'm not in the new concert film. I checked.
"You have to have a plan, not slogans," Carney said, apparently referring to other people. He is the one who "makes decisions." Other people don't understand "how decisions are really made," as he will demonstrate if he makes one.
Other people have simplistic views of markets. If he has more than a Polka Dot Door-level analysis of power in federal politics, he's keeping it under wraps. "We have a leader of the Liberal Party, we have a Prime Minister, we have a leader of the opposition, we have a leader of the third party," Mr. Carney said. "We have various people who either are Prime Minister or who want to be Prime Minister." And you know what? That's all true.
I am taking time to point out the extent of Downe's limited firepower and Carney's limited comprehensibility because the task at hand is difficult. Pushing out a party leader who doesn't want to be pushed is not part-time work. It took something close to civil war in the Liberal Party in 2002 and the late '80s, and even in the weakened Conservative Party in 2019 and 2022, it wasn't pretty. It takes more than an op-ed in the Hill Times. It takes a large and organized faction of the party, willing to ride out accusations (sometimes richly earned!) of disloyalty and self-serving. I'm not aware of any coherent group of current Liberals who want to begin this work.
By the way, if Carney has any standing at all in the Liberal Party of Canada this week, it's because in the summer of 2020, when the PMO was building up a Star Chamber-style case for pushing out their own finance minister in the middle of a global fiscal calamity, they sent word out that Carney had become a top Trudeau advisor. In the words of my future boss Taylor Swift, you play stupid games, you win stupid prizes.
One reason his party is hesitant to push Trudeau out, even now, is that it's hardly obvious the party would be better off if somebody else led it. In 2015 Stephen Harper was the best leader for a Conservative Party that seemed likely to lose, because he held the votes of most people who'd voted Conservative four elections in a row. Replacing him would have given voters license to shop around. Similarly, next year or the year after, Trudeau will be likelier to hold Liberal votes than some new leader. The people usually mentioned as possible successors to Trudeau work hard and mean well. But a capable new generation of political leadership doesn't rise simply because columnists are bored. This is something the Quebec, Ontario and British Columbia provincial Liberal parties, or whatever they'll calling the latter these days, have come to understand.
After the worst decade in the federal party's history, when 80% of the seats Jean Chrétien held were lost in instalments to other parties, Justin Trudeau essentially shut the party down and started over in 2013. Since then the new party has spent a decade breeding for docility. Eccentrics were banished, or simply left in a huff. These days the equilibrium state for the average Hill staffer is "brainstorming talking points." Much as yeast metabolizes carbohydrates into carbon dioxide and alcohol, if you leave seven staffers alone at room temperature they will spontaneously generate bullshit about "having Canadians' backs," as in the talking-point jam session I wrote about during last year's convoy commission. I'm nearly certain a future Liberal leadership race would feature four candidates who are incapable of thinking differently, and one or two who are powerless to change the party's culture.
So Trudeau probably can't be pushed out and it probably wouldn't help his party if he were. So he must wonder why he is being hazed. Heating oil is this week's crisis, and earlier crises — housing, foreign interference, a Nazi in the House, the latest collapse of Canada-India relations, the ongoing gong show of Bill C-18 — are as quickly forgotten. The crises follow one another without pause, and the non-crises generate barely a ripple. A better-functioning foreign-interference inquiry or a turn toward greater realism on immigration or a speech of some sort on foreign policy are barely noticed.
I don't know how you reverse momentum like this. I ran out of advice 15 months ago, when it was already obvious Trudeau was digging a ditch. Belatedly, his government spent the summer trying to change the channel, only to discover the clicker had vanished between the seat cushions. The things that were for sure going to get Canadians to reassess the Liberals — meeting in PEI, meeting in London, bringing Rechie Valdez into cabinet — somehow didn't reverse the trend.
So I'm left wondering, not whether Trudeau can be replaced, but why he stays. He called a pointless election in 2021 to strengthen his hand for 2022. He cut a deal with the NDP in 2022 to cement his hold on power for 2023. What does he think 2024 will be like? And 2027?